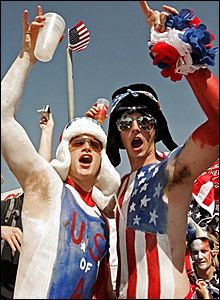 BBC SPORT | Football | World Cup 2006 | Italy 1-1 USA

Me and Mrs Teapot watched one of the most interesting games of the world cup last night as we saw the USA (Mrs Teapot's home country) draw 1 - 1 with Italy.

After the humiliating defeat by the Chech Republic, USA were actually looking like a proper football (sorry, soccer) team and at times seemed to have the upper hand over Italy.

The game was a bit of a bloodbath with Italy's De Rossi being sent off, closely followed by Pope and Mastroeni from the USA, leaving the States to hang on to their draw with just nine men.


All we need now is for USA to beat Ghana in their next match and Italy to beat the Czech Republic to go through to the next round.


Technorati tags: